Community Healing Days 2023
Thursday, October 19, 2023 –
Sunday, October 22, 2023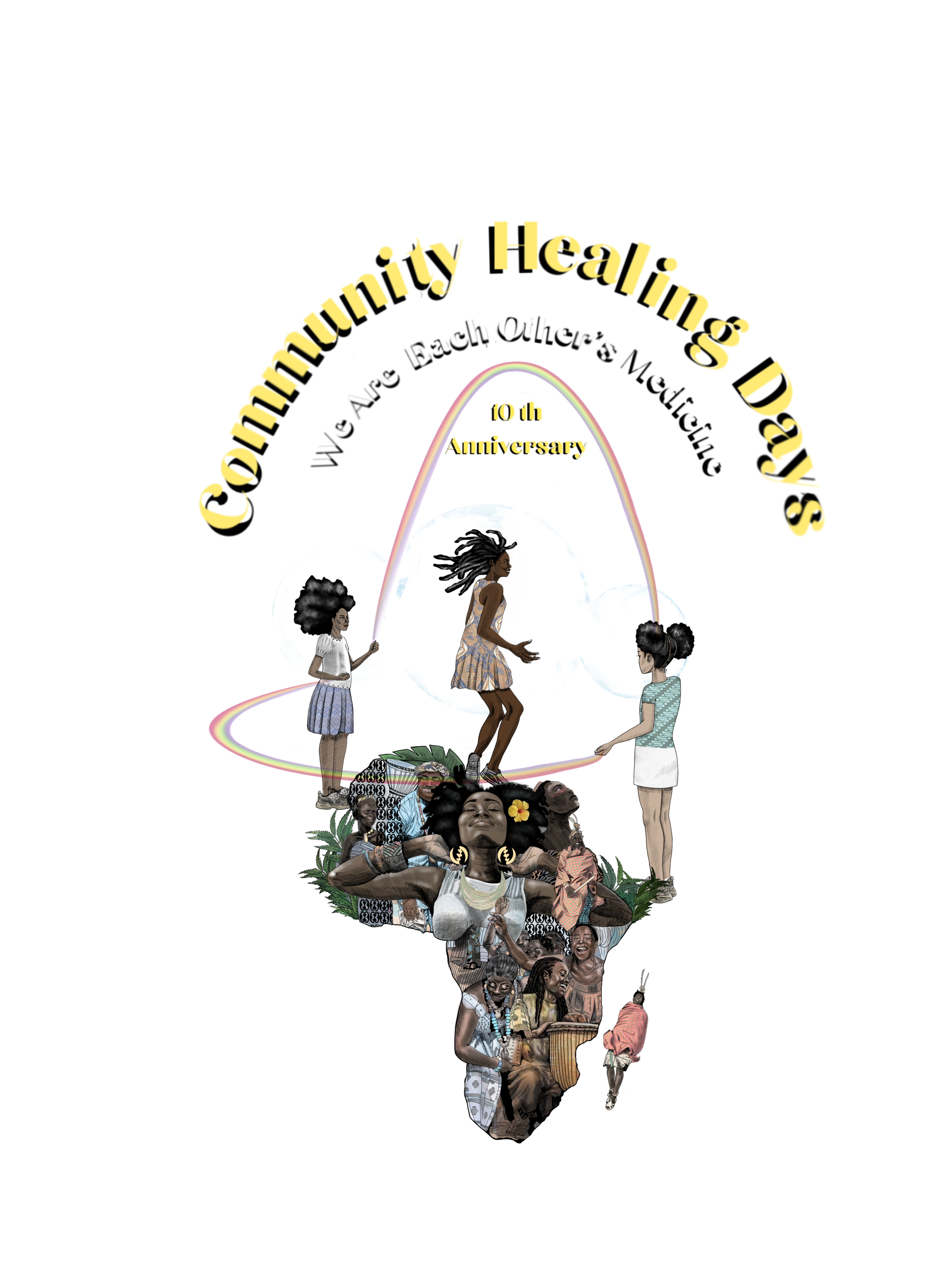 When you remove one strand from the broom, the rest can easily break.
But when you put them together, they do not.
– Akan Proverb

FOR OVER 400 YEARS…
The world has been fed poisonous lies about the history, worth, and value of people of African ancestry. These lies have perpetuated the myth that Black people are not as beautiful, lovable, capable, valuable, and worthy of life as any other member of the Circle of Humanity. The lie of Black inferiority (and by implication, the lie of White superiority) has consigned Global Africa to the bottom rung of humanity and, even worse, to the status of sub-human.
Yet we know, according to the second key of emotional emancipation, "The history of our people started long before the horror of our enslavement." In fact, we are the first peoples on Earth, the first builders of civilization, and the progenitors of many timeless accomplishments from which the world still stands upon. This is why we boldly and proudly declare: 
DEFY THE LIE.
EMBRACE THE TRUTH.

AS CHILDREN OF A DIVINE FORCE…
"If we stand tall, it is because we stand on the shoulders of many ancestors." – African Proverb
One of those ancestors is founding chair of CHN's Board of Advisors, Dr. Maya Angelou, who wisely urged us, as a people, to "take a day to heal from the lies we've been told, and the ones we've told ourselves."
Constantly defying the lie of White superiority & Black inferiority is tiring work. It is in the spirit of her wisdom we have been celebrating Community Healing Days for the past
10 YEARS.

THIS YEAR…
We are celebrating our spiritual role sharing. According to our African cultural wisdom, each person is driven by a personal, divine force. This divine force is endowed to us by the Creator and electrifies our capacity to connect with and heal one another. This is known as Sunsum in Twi, Seriti in Tswana, Chi in Igbo, and can be found in endless other African traditions.
Once we are awakened to our Sunsum, we cannot rest until such divinity is manifested and upheld in the entire community and society around us. This is the Divine nature of our Universe. This is why: 
WE ARE EACH OTHER'S MEDICINE.

Events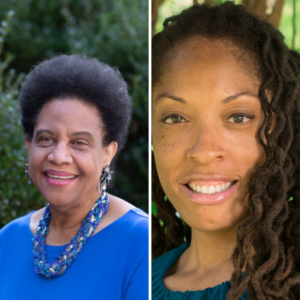 Leadership Transition Ritual
Thursday, October 19th - 7pm EST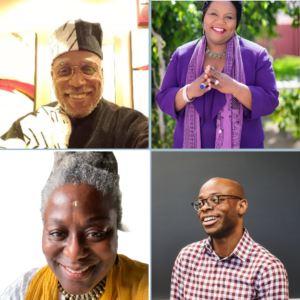 Community Healer, Babajay Dr. Onaje Muid is a transformative social innovator with a 40 year history serving non profits and community organizations. He serves as co-chair of the National Association of Black Social Workers National Relations Committee and Health Commission for National Coalition of Blacks for Reparations in America, and the United Nations NGO representative for IHRAAM.
Jonathan Mathias Lassiter, Ph.D. is a 21st century polymath. He is a licensed clinical psychologist in private practice at Lassiter Health Initiatives alongside his roles as professor, author, and public speaker. As a public intellectual, Dr. Lassiter has been featured across television, radio, podcasts, and print media such as NBC's TODAY Show, PBS News Reports, Sirius XM, and The Hill. His debut trade press book, How I Know White People Are Crazy, will be published by Hachette Books in 2025. The text combines memoir and cultural analysis related to race, sexuality, chronic illness, and mental health. Dr. Lassiter is also the award-winning co-editor of Black LGBT Health in the United States: The Intersection of Race, Gender, and Sexual Orientation. Alongside this work, he is a board member of The Gatekeepers Collective in NYC, a resiliency enhancement network for Black same gender loving men where he contributes his expertise related to mental health and health equity research. He also works at the intersection of the arts and mental health serving as a mental health columnist for Southeastern Theatre Conference Magazine as well as a mental health expert and coach for the Black Acting Methods Studio. In addition, he founded Psychosomatic Dance and served as its Co-Artistic Director and Resident Choreographer of from 2013-2016. Follow Dr. Lassiter on all social media platforms at @lassiterhealth.
Dr. Valerie F. Hunt (Dr. Beloved) is the daughter of Elder Merdie Hunt and Beloved Ancestor
Richard Hunt. Dr. Hunt is a scholar, activist, mentor, teacher, poet, artist, and healer whose
primary applied research and practice is in transforming racial inequities by way of Building
Beloved Community(is) of Liberation and Emancipation. Dr. Hunt earned a Bachelor of Arts
degree in International Studies and Middle East Affairs from Rhodes College, a master's degree
in international political economy and Defense and Strategic Studies from the University of
Southern California, a master's degree in political communication and her PhD in Political
Science, Governing Institutions, and Public Policy from the University of Washington.
Dr. Hunt's manifesto of Liberating and Emancipating Our Black Diasporic communities is to:
"Get In, Fan Out and Bring the Knowledge and Wisdom Back to Our People." Dr. Beloved is co-
founder of Back to the Root Intercultural Exchange. In her words: "We are a grassroots,
intergenerational collective of cultural custodians, educators, and healers. Our work is
dedicated to the liberation of our People through place based Pan-African International
Exchange between the United States and Danxome (Benin Republic)."
Dr. Beloved is Faculty Affiliate at the University of Washington both in the Center for
Communication, Difference and Equity and in the Department of Political Science, and with the
School of Education at Oregon State University. In her 36 year career in higher education, Dr.
Hunt has taught and mentored hundreds of students at all levels and stages of their
professional advancement and positionality in the academy from kindergarten to executive
levels of administration such as Deanships, Presidencies, Provosts, and Chancellorships. As a
policy analyst, her expertise and research interest are public policy dynamics in the following
issue areas: the politics and practice of being and belonging; race, citizenship, and immigration
policy; race, wealth, and wealth inequality; race and housing policy; Black and Indigenous
relations; Land Back/Land Black movement; health disparities; and the social determinants of
health.
Dr. Hunt served as the Associate Vice President of Equity, Diversity, and Inclusion at Seattle
Central Community College from 2017-2022, and is the sole tenured faculty in the bachelor's
program of Applied Behavioral Science at Seattle Central. She is a Founding Member of the
Senior Ford Fellows of the National Academies of Science, Engineering and Medicine where for
over a decade she serves primarily to increase the percentage of educators and administrators
of color in the academy across the nation. She is the co-founder and President of the Center for
Equitable Policy in a Changing World and serves as Ambassador for the OpEd Project, a
nonprofit organization whose mission is to increase and elevate the number of
underrepresented experts in the media. Dr. Hunt considers her Harriet Tubman work of
liberation of Black people throughout the Diaspora through education of who we are, our
history, and our connections with one another. Dr. Beloved is currently learning Fonbge, the
indigenous language of Danxome, so she can make poetry for her Ancestors in their mother
tongue.
Hey everyone, we are thrilled to introduce you to Nailah G. Beraki ND, PhD-LMHC-CASAC- a holistic healing practitioner, counselor, Reiki Master, and the owner of Shakeray Wellness Collaborative, LLC. With over 40 years of experience in empowering others, Nailah has gained the reputation of being a 'Transformational' expert in her field. She has not only taught Business for Health Professionals at the New York College but has also been called upon as an expert and referenced in numerous publications. And that's not all - Nailah is a best-selling author on Amazon, with books like 'Answer the Call' and 'Fear It's A Good Thing'. As a certified Energy Leadership Index Master Practitioner ELI-MP and a professional coach certified by ICEP and accredited by the International Coach Federation PCC, Nailah travels the country to guide others on their profound personal transformation journey. So if you're looking to transform your life, Nailah is here to be your guide. Let's get started on this exciting journey together!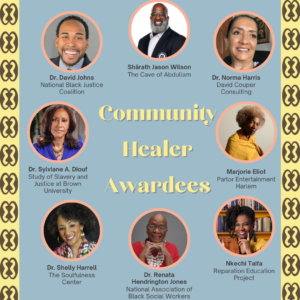 Shalom! My name is Jason Wilson. I'm the director of The Cave of Adullam Transformational Training Academy (CATTA). I founded The CATTA, or "the Cave," in 2008 after realizing that boys were in dire need of Emotional Stability Training®. When I first started the CATTA, there were many "Scared Straight" programs in Michigan, and I had even participated in a couple. However, I quickly discovered that inflicting trauma will never help a boy release it but instead teach him to suppress it. Nowadays, you'll be hard-pressed to find a Scared Straight or Bootcamp program because discipline without love is ineffectual. Our boys need to be healed, not scared straight. Background & Experience I have been mentoring boys and training in martial arts for over 25 years — my martial arts experience includes Aikibujutsu, Jiujitsu, Judo, Kempo, and Boxing. Although I've seen the benefits of martial arts discipline, I've always been confounded about how a martial artist can make it to the level of a black belt in a dojo or gym, but remain a white belt in life. I see why it's written that, "Training the physical body is of some value, but training for godliness is of value in every way, benefitting in this life and the life to come (1 Tim 4:8)." I'm not a martial artist, but a man with a martial heart. I am not committed to developing martial artists, I sacrifice my life to save the lives of boys. Philosophy & Needs Assessment Teaching boys how to fight is one thing, but training them up to walk the path of righteousness is another. In 2012, there were over 411 homicides in Detroit Michigan, and over 73% were young black men. King Solomon penned, "Do not be overly foolish, why die before your time." So, my combat thesis is to love always, and fight if you must. In my community, reality has no rules — there isn't an MMA cage on each corner. However, there is an overabundance of emotionally unstable young men with guns, unlawful police officers, and "Zimmerman's" patrolling communities nationwide. It's imperative that I teach boys and young men how to fight before the fight, because bullets don't tap out! A Purposeful & Passionate Mission The CATTA was birthed through my unrelenting passion for redirecting the lives of youth through the faith-based nonprofit organization called The Yunion (pronounced union), which I founded in 2003. The Yunion has reached more than 15,000 youth and young adults in Metro-Detroit through culturally relevant and innovative programming, workshops, seminars, and training.
Dr. David J. Johns is the executive director of the National Black Justice Coalition (NBJC), a civil rights organization dedicated to the empowerment of Black lesbian, gay, bisexual, transgender, queer+, and same-gender loving (LGBTQ+/SGL) people, including people living with HIV/AIDS. Dr. Johns was appointed the first executive director of the White House Initiative on Educational Excellence for African Americans by President Barack Obama and served from 2013-2017. Dr. Johns was a senior education policy advisor to the Senate Committee on Health, Education, Labor, and Pensions under the leadership of U.S. Senator Tom Harkin (D-IA) and has served under the leadership of the late U.S. Senator Ted Kennedy (D-MA). Dr. Johns was a Congressional Black Caucus Foundation Fellow in the office of Congressman Charles Rangel (D-NY). Dr. Johns received his Ph.D. in sociology and education policy at Columbia University. Dr. Johns obtained a master's degree in sociology and education policy at Teachers College, Columbia University, graduating summa cum laude. He graduated with honors from Columbia College, Columbia University in 2004 with a triple major in English, creative writing, and African American studies. Dr. Johns was named to the Out100 list in 2021, the Root100 in both 2013 and 2014, Ebony's Power 100 in 2015, and received an early career award from Columbia University, Teachers College in 2016.
Dr. Sylviane A. Diouf is a Visiting Scholar at the Center for the Study of Slavery & Justice, Brown University. Her groundbreaking research focuses on little-known aspects of enslaved people's experience. She has authored and edited 13 books and curated 10 exhibitions. She is the author, notably, of Slavery's Exiles: The Story of the American Maroons ; Servants of Allah: African Muslims Enslaved in the Americas; and Dreams of Africa in Alabama: The Slave Ship Clotilda and the Story of the Last Africans Brought to America, which received the Wesley-Logan Prize of the American Historical Association, the Sulzby Award of the Alabama Historical Association and was a finalist for the Hurston/Wright Legacy Award. In 2015 Dr. Diouf was the keynote speaker addressing the United Nations General Assembly on the International Day of Remembrance of the Victims of Slavery and the Transatlantic Slave Trade. A recipient of the Rosa Parks Award, the Dr. Betty Shabazz Achievement Award, and the Pen and Brush Achievement Award, Diouf was the founding director of the Lapidus Center for the Historical Analysis of Transatlantic Slavery at the Schomburg Center for Research in Black Culture.
Dr. Norma Harris' background in management, training, and education provides her with a unique perspective in both teaching and training. Her experience taught her that relying on the didactic approach does not guarantee changes in beliefs, behaviors, and practices. Incorporating "transformative learning" instructional models and strategies create a safe space for learners to question and re-evaluate their assumptions leading to a fundamental shift in their perceptions, understanding, and professional practices. The result is individuals who willingly challenge their assumptions and engage in reflection to improve their personal and work life. Norma, also, maintains an ongoing coaching and counseling practice. Background: Association of Black Psychologists Sawubona National Program Certified Trainer and Facilitator (2020-Present) Community Healing Network (CHN)(2019-Present) Emotional Emancipation and Ubuntu Circle Trainer and Facilitator City University of New York, MAAT (2020-Present) Thesis Advisor Los Angeles Unified School District (LAUSD) (2007-2020) Education Specialist, Assessor AT&T (1978-2006) Sales, Sales Manager, Project Manager. Education: Fielding Graduate University Ph.D. Human Development with a concentration in Transformative Learning through Social Justice Fielding Graduate University M.S. Organizational Systems USC Marshall School of Business Executive Management Program B.S. Business Management NOTED Accomplishments: Chair/Scholarship Program Magic Johnson Foundation Oversaw the procedures for accepting applicants, supporting scholars, and developing summer institutes for our scholars in urban areas across the United States California Credentialed Educator in SPED Educator, assessor, and advocate for students who are neurodiverse Association of Black Psychologists Sawubona National Program Committee Member Engaged in the creation and delivery of crisis response programs for people of African Descent.
Born and raised in Detroit, Michigan, Dr. Shelly Harrell obtained her BA from Harvard University, graduating Magna Cum Laude with Highest Honors in Psychology and Social Relations. She went on to earn her PhD in Clinical Psychology from UCLA. She is currently Founder and Director of The Soulfulness Center, as well as a Full Professor at Pepperdine University's Graduate School of Education and Psychology where she directs the Culture, Wisdom, and Resilience lab. Dr. Harrell's early research focused on the multidimensional conceptualization and measurement of racism-related stress that resulted in one of the earliest and most widely used measures of microaggressions. She is a researcher and published author in the areas of culture and psychotherapy, sociocultural and sociopolitical aspects of stress, racism and well-being, and Black mental health. Her current work focuses on cultural dimensions of healing in the context of racial stress and trauma with an emphasis on mind-body and contemplative practices such as meditation and mindfulness. Over the past decade, she has developed a "soulfulness" approach to such practices and created unique meditations that are inspired by African and diasporic wisdom, healing traditions, and cultural expressions. As a certified meditation teacher, she has taught meditation classes and facilitated guided meditations for hundreds of people, including a summer series at a Black-owned health store and restaurant in Los Angeles, through a community-based meditation and yoga space in Inglewood, California, retreats for Black couples, Black women leaders, Black academics, community healers in South Los Angeles, in many online formats targeting Black participants, and much more. Her most recent endeavor is the development of Sankofa Theory and Practice, a comprehensive, African-centered theory that centers reconnection and interconnection as the core processes to heal the many harms of disconnection emanating from oppression, enslavement, and coloniality. This work represents an integration of her scholarship, teaching, and professional practice over the course of nearly 40 years. Dr. Harrell has been married for 33 years and has two sons, ages 25 and 29. Her refuge and release is music, and making playlists is one of her most frequent hobbies. She is also deeply connected to the color purple.
Dr. Renata Hedrington Jones Dr. Hedrington Jones is a graduate of McKinley High School, Washington, D.C. She believes that this is her greatest accomplishment and contributes to her strength and desire to impact the lives of her community and beyond. Dr. Renata A. Hedrington Jones is a graduate of Walden University earning her PhD in Human Services Administration (2015) and a Master's in Policy Administration (2021). She earned a BA in Social Work from Virginia Intermont College (1975); MSW from Virginia Commonwealth University (1987). She is a Licensed School Social Worker. Dr. Hedrington Jones is currently a Core Faculty member in the MSW program at Walden University. She believes that she has been ordained to be a social worker. Her social work career began in 1974. She has worked in corrections, community mental health, adoptions, public education, and residential services. Her work experiences resulted in her being the voice of the people in her community. Dr. Hedrington Jones works with the Richmond Association of Black Social Workers Social Action committee. She is currently the National Vice President of the National Association of Black Social Workers (NABSW). She is also a member of the DMV region of Delta Sigma Theta Sorority, Inc., DTEC/DTAG (Delta Teacher Efficacy Campaign/Delta Teachers Advocating to Lead Great Change). This committee works to advocate and inform communities about public education and relevant polices and laws. Empowering others is essential to social change. She served as an adjunct faculty member at Virginia Commonwealth University, Virginia State University, and Longwood University. Dr. Hedrington Jones is an enthusiastic advocate for equity, inclusion, diversity, and social justice. She served as a lobbyist in the Commonwealth of Virginia representing the Virginia School Social Workers Association on Capitol Hill. She participated in the Inaugural Social Work Consortium on Capitol Hill representing the National Association of Black Social Workers. She works with social policy organizations to support and ensure awareness and to learn the social worker's role and needs on a national policy level. Dr. Hedrington Jones was awarded the Nia Lifetime Achievement Award at the 50th Anniversary of the National Association of Black Social Workers (NABSW). She was recently reelected as the National Vice President of NABSW. Dr. Hedrington Jones and her research partners were awarded a Walden University FRIG (grant) which supported research and the presentation of the project and findings at the National Conference of the International Coalition of Children of Incarcerated Parents at the University of Huddersfield in Huddersfield, U.K. The goal of the research was to explore the use of storytelling as a communication tool for parents and caregivers of children of incarcerated parents. Dr. Hedrington Jones is the 2021 recipient of the Presidential Award for Faculty Excellence, Commitment to Social Change Award, and the Faculty Excellence Award (College of Social and Behavioral Sciences) from Walden University. Dr. Hedrington jones was recently awarded the Black Excellence Award by the Richmond Chapter of Delta Sigma Theta Sorority, Inc. for her contributions to the community and the social work profession. She is currently completing research on Safe Spaces vs. Counter Spaces via a Walden Faculty Grant; she is the Coordinator of a NASW Foundation, LLC COVID grant awarded to NABSW. Dr. Hedrington Jones believes in reciprocity and continuing the legacy of the Ancestors.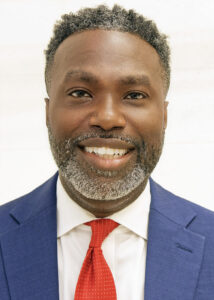 Dr. O'Shan Gadsden is a psycho-spiritual thought leader who focuses his research and clinical work/expertise on issues of Black Masculinity, spirituality, emotional intelligence and intimacy in general and specifically related to African-American adult men; and the various relationships they find themselves.
Dr. O'Shan Gadsden's keynote speech will feature: The impact of unresolved developmental trauma/conflicts on how folks navigate relationally and understand their own sense of self.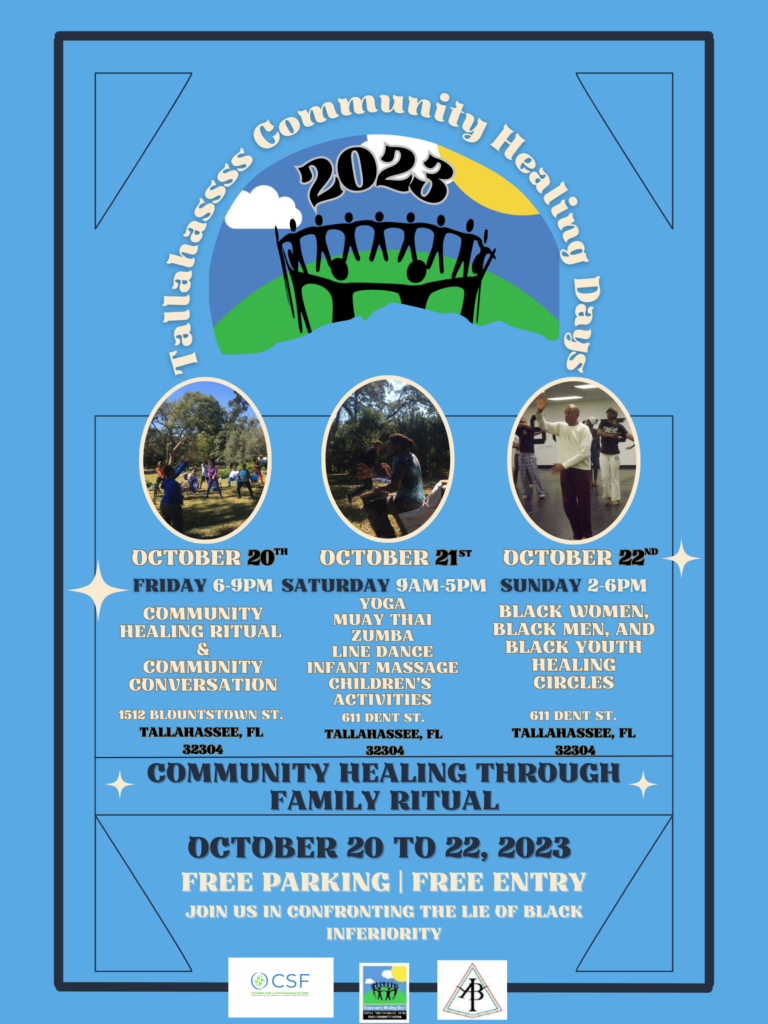 Join the Tallahassee Community Healing Days Coalition in celebration of their 2023 gathering:
Community Healing Ritual & Community Conversation
Friday, October 20th between 6-9 PM EST at 1512 Blountstown St, Tallahassee, FL 32304
Yoga, Muy Thai, Zumba, Line Dance, Infant Massage, Children's Activities
Saturday, October 21st between 9 AM - 5 PM EST at 611 Dent St, Tallahassee, FL 32304
Black Men, Black Women, Black Youth Healing Circles
Sunday, October 22nd between 2 PM - 6 PM EST at 611 Dent St, Tallahassee, FL 32304


WEAR SKY BLUE…
Gye Nyame Stainless Steel Water Bottle

$

40.00

Mama Africa Unisex Fleece Joggers

$

50.00

Gye Nyame Poster

$

10.00 –

$

25.00

Over the Rainbow T-Shirt (Short Sleeve)

$

30.00

We Are Each Other's Medicine Unisex Fleece Joggers

$

50.00

Rainbows & Halos Stainless Steel Water Bottle

$

40.00

Over the Rainbow Unisex Fleece Joggers

$

50.00

Over the Rainbow Organic Canvas Tote Bag

$

33.00 –

$

34.83

Mama Africa Hoodie

$

60.00

Over the Rainbow Streeter Hoodie Dress

$

100.00

Mama Africa T-Shirt (Short Sleeve)

$

30.00

Mama Africa Organic Canvas Tote Bag

$

33.00 –

$

34.83

Over the Rainbow Hoodie

$

60.00

Over the Rainbow Sweatshirt

$

55.00

Rainbows & Halos Spiral Notebook – Ruled Line

$

20.00

Mama Africa Sweatshirt

$

55.00

Over the Rainbow Poster

$

10.00 –

$

25.00

Mama Africa Spiral Notebook – Ruled Line

$

20.00

We Are Each Other's Medicine Women's Spandex Leggings

$

55.00